Products
Protection Panels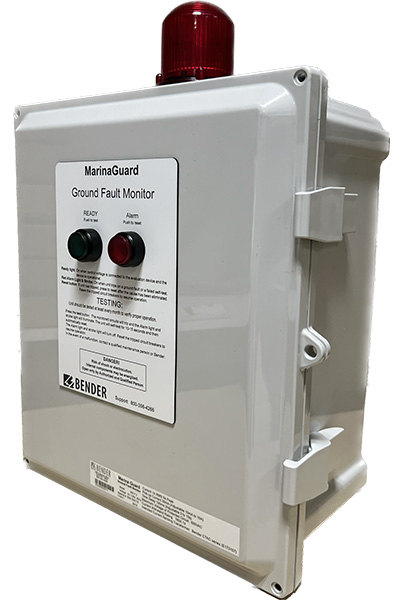 MarinaGuard®
Ground-fault monitoring specifically designed for marinas and shore power
Provides the ground-fault protection required by NEC 2020 (555.35, 555.53 & 682.15), NEC 2017 (555.3 & 682.15), and CE Code 78-052
Available in single-channel and twelve-channel models
Trip outputs, for connection to external shunt-trip circuit breakers
Strobe light externally mounted onto NEMA 4X rated enclosure, suitable for outdoor use
UL Listed Industrial Control Panel
MarinaGuard® series Listed Industrial Control Panels monitor for ground faults in feeder and branch circuits supplying electrical systems in marinas, boat yards, docking facilities, and similar locations. These panels satisfy the monitoring requirements of NEC 555.35, 555.53 & 682.15 (2020 edition).
MarinaGuard® panels are available with single-channel monitoring, or twelve-channel monitoring from a single panel. Each circuit features an adjustable trip level to set below the maximum allowed, if desired. External current transformers are used for measuring ground-fault current and are available in a variety of sizes, shapes, and core types.
All models have a NEMA 4X, outdoor rated enclosure. A strobe light, mounted to the top of the enclosure, provides clear, visual trip indication. Relay contacts are provided for connecting external interruption equipment, such as shunt-trip breakers.
Temporarily not available
Do you already know our new product generation:
Features
Applications
Accessories
Ordering information
Downloads
Ground-fault monitoring panel for marinas and shore power
Satisfies monitoring requirements of NEC 555.3 & 682.15 and CEC 78-052
Available in single-channel and twelve-channel models
Factory default trip level pre-configured for code requirements, adjustable below maximum if desired
Relay contacts for connection to external shunt-trip breakers
Externally mounted strobe light provides clear, visual indication of alarms
NEMA 4X enclosure, outdoor-rated enclosure
Uses external current transformers for measurement, available in a wide range of sizes, shapes, and core types
Ground-fault protection in marinas and boatyards
Compliance with shore-power ground-fault protection requirements of NEC 555.3 & 682.15 and CEC 78-052
Mandatory accessories for MarinaGuard®
AC current transformers
| | | | |
| --- | --- | --- | --- |
| W1-S35 | 1.35" (35mm) | circular, solid | B911731 |
| W2-S70 | 2.75" (70mm) | circular, solid | B911732 |
| W3-S105 | 4.1" (105mm) | circular, solid | B911733 |
| W4-S140 | 5.5" (140mm) | circular, solid | B911734 |
| W5-S210 | 8.25" (210mm) | circular,solid | B911735 |
| WR70x175S | 2.75"x6.9" (70x175mm) | rectangular, solid | B911738 |
| WR115x305S | 4.5"x12" (115x305mm) | rectangular, solid | B911739 |
| WR150x350S | 5.9"x13.8" (150x350mm) | rectangular, solid | B911740 |
| WR200x500S | 7.9"x19.7" (200x500mm) | rectangular, solid | B911763 |
| WS20x30 | 0.75"x1.2" (20x30mm) | rectangular, split-core | B98080601 |
| WS50x80 | 2"x3.1" (50x80mm) | rectangular, split-core | B98080603 |
| WS80x120 | 3.1"x4.7" (80x120mm) | rectangular, split-core | B98080606 |
Variants of MarinaGuard®
| | | |
| --- | --- | --- |
| MG-1.2 | 1 | B541300633 |
| MG-T.2 | 12 | B541300635 |
Downloads for MarinaGuard®
| | Category | Product | Language | Size | Download |
| --- | --- | --- | --- | --- | --- |