Products
Isolated Power Panels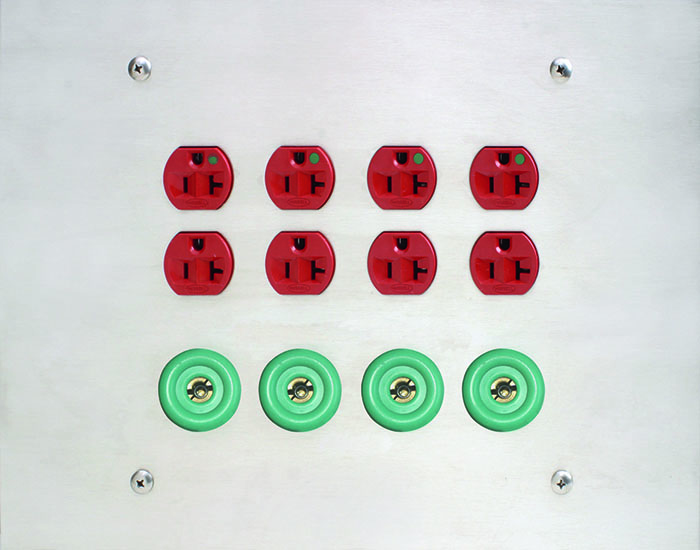 GPM Series
BENDER series GPM ground and power modules provide a combination of hospital grade power receptacles and/or ground jacks to satisfy the requirements of general and critical care areas. Straight blade (single or duplex) and twist-to-lock receptacles may be provided. Also available are hospital grade ground cords to facilitate the implementation of an equipotential environment.

Ground and power modules are designed in strict compliance with UL467, UL50, the NFPA 70 (National Electric Code), and NFPA 99.
Features
Applications
Accessories
Ordering information
Downloads
Hospital grade outlet devices for supply and grounding of portable equipment
May contain hospital grade power receptacles, hospital grade ground jacks, and/or aluminum or copper ground buses
Available for flush or surface mounted applications
Optional accessories for GPM Series
Note: this item must be use with the LIM2010 Line Isolation Monitor.
Variants of GPM Series
| | | |
| --- | --- | --- |
| GPM-F4DR4 | (4) 30A/250V- Green Ground Jacks & (4) 20A/125V- Red Duplex Receptacles | B521300405 |
| GPM-F4NN0 | (4) 30A/250V- Green Ground Jacks | B521300349 |
| GPM-F0NN0 | Ground bus w/ min. of 20 connections Only | B521300400 |
| GPM-F4TB4 | (4) 30A/250V- Green Ground Jacks & (4) 20A/125V-Locking Receptacles | B521300407 |
For assistance with ordering please contact Medical.Sales@Bender-us.com or call (610) 383-9200.
Downloads for GPM Series
| | Category | Product | Language | Size | Download |
| --- | --- | --- | --- | --- | --- |