Products
Isolated Power Panels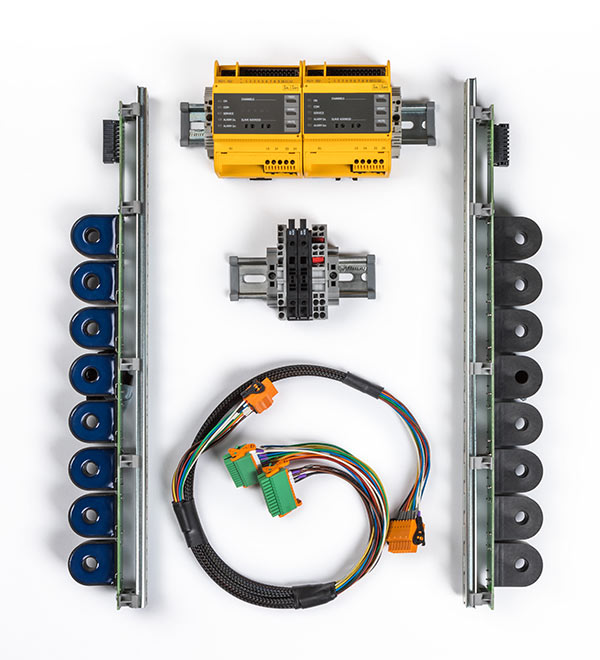 EDS441-LNA Kit
Automatic ground-fault location in ungrounded Hospital Isolated Power systems
Locates ground faults while the system remains online
Compatible with medical (LIM2010) applications
Capable of monitoring up to sixteen branch circuits
Uses the CTAC10/99 series current transformer sensors
When combined with BENDER's Line Isolation Monitor (LIM2010) and CTAC10/99 series current transformer strips, the EDS441-LNA-4 modules locate ground-faults in ungrounded Hospital Isolated Power systems. Using a special measurement signal after a ground fault is detected, up to sixteen separate channels are monitored in parallel to identify the corresponding circuit.
Fault location takes place automatically and while the system remains online, negating the need for interrupting(opening) branch circuit breakers or disconnecting equipment.
A complete, installed ground-fault location system requires a Line Isolation Monitor (LIM2010 for medical applications) and a single current transformer per circuit.
Click here for more information on our onsite support services.
Features
Applications
Accessories
Ordering information
Downloads
Used in combination with the BENDER LIM2010 Line Isolation Monitor to create an automated ground fault location system in ungrounded Hospital Isolated Power systems
Remote monitoring and configuration via webserver with the BENDER COM465IP Communication Gateway device
Uses low-frequency, low-current, line-to-ground tracer signal for fault location
Channels scanned in parallel
Uses the CTAC10/99 series current transformer sensors
Wiring and hardware included for hassle-free field installation in existing Modular Isolated Power systems
Variants of EDS441-LNA Kit
| | | |
| --- | --- | --- |
| EDS441LNAKIT1 | Up to 12 | B561300003 |
| EDS441LNAKIT2 | Up to 16 | B561300162 |
For assistance with ordering please contact Medical.Sales@Bender-us.com or call (610) 383-9200
Downloads for EDS441-LNA Kit
| | Category | Product | Language | Date | Size | Download |
| --- | --- | --- | --- | --- | --- | --- |