Products
Ground Fault Monitoring, Ungrounded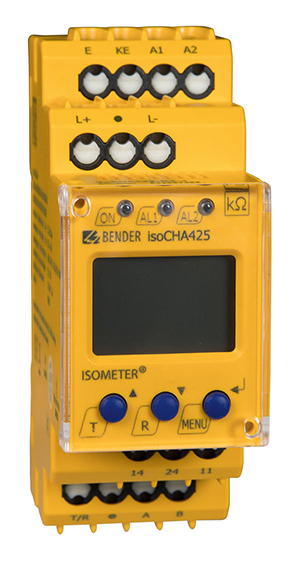 ISOMETER® isoCHA425
Monitoring the insulation resistance for DC charging stations according to Japanese charging standard CHAdeMO
Detection of asymmetrical insulation faults in the DC system voltage range between 50 V und 400 V within 1 s
Detection of symmetrical insulation faults within 10 s
Measurement of the system voltage (true RMS) with undervoltage and overvoltage detection
Measurement of DC system voltages to earth (L+/PE and L-/PE)
The ISOMETER® monitors the insulation resistance of DC charging stations according to the Japanese charging standard CHAdeMO for voltages between DC 50 V and 400 V.
Asymmetric insulation faults are reported with a response time ≤ 1 second. Symmetrical insulation faults within 10 seconds. The maximum permissible system leakage capacitance Ce is 2 μF.
In order to meet the requirements of applicable standards, customised parameter settings must be made on the equipment in order to adapt it to local equipment and operating conditions.
Please heed the limits of the range of application indicated in the technical data. Any use other than that described in this manual is regarded as improper.
Features
Applications
Accessories
Ordering information
Downloads
Monitoring the insulation resistance RF for DC charging stations according to Japanese charging standard CHAdeMO
Detection of unipolar insulation faults in the nominal voltage range between 50 V und 400 V within 1 s
Detection of two-pole insulation faults within 10 s
Measurement of the nominal system voltage Un (true RMS) with undervoltage and overvoltage detection
Measurement of residual voltages UL+e (between UL+ and earth) and UL-e (between UL- and earth)
Automatic adaptation to the system leakage capacitance Ce up to 2 μF
Selectable start-up delay, response delay and delay on release
2 separately adjustable response value ranges of 5…250 kΩ (Alarm 1, Alarm 2)
Alarm signalling via LEDs (AL1, AL2), a display and alarm relays (K1, K2)
Automatic device self test with connection monitoring
Selectable N/C or N/O relay operation
Measured value indication via multi-functional LCD
Fault memory can be activated
RS-485 (galvanically isolated) including the following protocols:
- BMS interface (Bender measuring device interface) for data exchange with other Bender components
- Modbus RTU
- IsoData (for continuous data output)
Password protection to prevent unauthorised parameter changes
DC charging stations for electric vehicles according the Japanese charging standard CHAdeMO
Mandatory accessories for ISOMETER® isoCHA425
Description
Art. No.
Mounting clip for screw mounting
(1 piece per device)
B98060008
Variants of ISOMETER® isoCHA425
| | | | |
| --- | --- | --- | --- |
| isoCHA425-D4-4 | AC 100…240 V, 47…63 Hz / DC 24…240 V | ≤ 2 μF | B71036395 |
Downloads for ISOMETER® isoCHA425
| | Category | Product | Language | Size | Download |
| --- | --- | --- | --- | --- | --- |