Products
Ground Fault Location, Ungrounded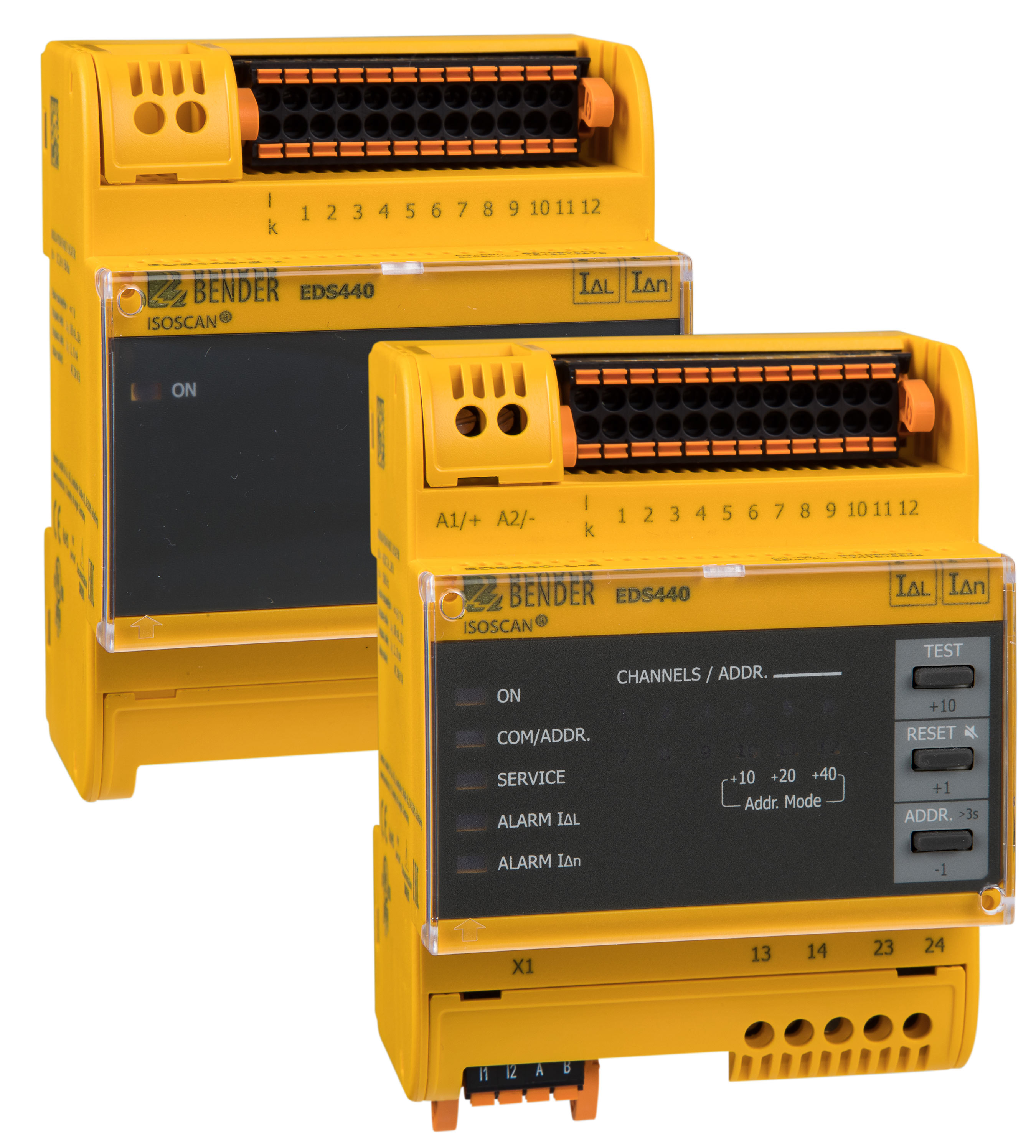 ISOSCAN® EDS440 Series
Automatic ground-fault location in ungrounded AC/DC systems
Locates ground faults while the system remains online
Compatible with industrial (iso685-D-P) and medical (LIM2010) applications
Up to twelve channels scanned in parallel, interconnect additional devices to add more
Uses current transformers, available in a wide range of sizes and shapes
When combined with Bender's ground-fault detectors and current transformers, EDS440 modules locate ground-faults in ungrounded AC and DC systems. Using a special measurement signal after a ground fault is detected, up to twelve separate channels are monitored in parallel to identify the corresponding branch or circuit. Multiple EDS modules may be interconnected to expand the quantity of branches scanned.
Fault location takes place automatically and while the system remains online, negating the need for opening branch circuit breakers or disconnecting equipment.
A complete, installed ground-fault location system requires a ground-fault detector (iso685-D-P for industrial applications, LIM2010 for medical applications) and a single current transformer per circuit or branch. Current transformers vary by application and are available in a wide range of sizes and shapes.
Features
Applications
Accessories
Ordering information
Downloads
Used in combination with select Bender ground-fault detectors and line isolation monitors to create an automated ground fault location system in ungrounded AC/DC systems
Works on single-phase AC, three-phase AC, and DC systems
Compatible with systems with variable frequency drives and other power conversion equipment
Monitors up to twelve separate branches in parallel from each individual module
Uses low-frequency, low-current, line-to-ground tracer signal for fault location
Channels scanned in parallel
Uses current transformers available in a wide range of sizes and shapes
Automated ground-fault location in ungrounded AC/DC systems
General purpose electrical distribution networks
Motor control centers
Control systems
Isolated power systems in healthcare facilities
Mandatory accessories for ISOSCAN® EDS440 Series
Current transformers (EDS440 models only)
| | | | |
| --- | --- | --- | --- |
| W1-S35 | 1.35" (35mm) | circular, solid | B911731 |
| W2-S70 | 2.75" (70mm) | circular, solid | B911732 |
| W3-S105 | 4.1" (105mm) | circular, solid | B911733 |
| W4-S140 | 5.5" (140mm) | circular, solid | B911734 |
| W5-S210 | 8.25" (210mm) | circular,solid | B911735 |
| WR70x175S | 2.75"x6.9" (70x175mm) | rectangular, solid | B911738 |
| WR115x305S | 4.5"x12" (115x305mm) | rectangular, solid | B911739 |
| WR150x350S | 5.9"x13.8" (150x350mm) | rectangular, solid | B911740 |
| WR200x500S | 7.9"x19.7" (200x500mm) | rectangular, solid | B911763 |
| WS20x30 | 0.75"x1.2" (20x30mm) | rectangular, split-core | B98080601 |
| WS50x80 | 2"x3.1" (50x80mm) | rectangular, split-core | B98080603 |
| WS80x120 | 3.1"x4.7" (80x120mm) | rectangular, split-core | B98080606 |
Current transformers (EDS441 models only)
| | | | |
| --- | --- | --- | --- |
| W10-8000 | 0.4" (10mm) | circular, solid | B911759 |
| W20-8000 | 0.75" (20mm) | circular, solid | B98080009 |
| W35-8000 | 1.35" (35mm) | circular, solid | B98080017 |
| W60-8000 | 2.35" (60mm) | circular, solid | B98080027 |
| WS20x30-8000 | 0.75"x1.2" (20x30mm) | rectangular, split-core | B98080602 |
| WS50x80-8000 | 2"x3.1" (50x80mm) | rectangular, split-core | B98080604 |
Variants of ISOSCAN® EDS440 Series
| | | | | |
| --- | --- | --- | --- | --- |
| EDS440-S-1 | Industrial, general purpose | iso685-D-P | PCB snap-in | B91080201 |
| EDS440-L-4 | Industrial, general purpose | iso685-D-P | RS-485 | B91080202 |
| EDS441-S-1 | Industrial, control systems | iso685-D-P | PCB-snap-in | B91080204 |
| EDS441-L-4 | Industrial, control systems | iso685-D-P | RS-485 | B91080205 |
| EDS441-LNA-4 | Medical power systems | LIM2010 | RS-485 | B91080208 |
Downloads for ISOSCAN® EDS440 Series
| | Category | Product | Language | Size | Download |
| --- | --- | --- | --- | --- | --- |